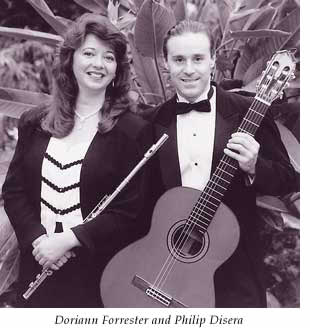 Ambiance Flute and Guitar Duo has been entertaining audiences since 1985. Their experience and vast, eclectic repertoire allows them to be flexible, making the ambiance of every event perfect. Their CD, A Little Night Music, is a collection of their most requested original classical interpretations, including the music of Mozart, Pachelbel, Faure, Bach and Handel. To order a CD, or to place quantity orders for private or corporate gifts, phone 416-693-8778, or place a secure online order at: www.ambiancemusic.com

Doriann Forrester is one of the most versatile flutists in Canada. She is renowned for her distinctive flute sound and musical interpretation. Her personable style, in-depth musical training and vast experience adds greatly to the appeal of Ambiance. Doriann has performed in musicals, television commercials, and with various orchestras, chamber, wind and jazz ensembles in Toronto. Wind ensemble conducting, recording with other artists and music festival adjudications complement her musical experience. An honours music graduate, Doriann studied music at Humber College, Sir Wilfrid Laurier University and the Royal Conservatory of Music. Her teachers included Geoffrey Gilbert (teacher of James Galway), Jean-Pierre Rampal and Toronto jazz musician Pat Labarbera.

Guitarist/composer Philip Disera lends both depth and variety to this duo. In addition to his work with Ambiance, Philip's dynamic guitar styles have been heard in many of Toronto's major clubs, Roy Thomson Hall, the duMaurier Jazz Festival and the Beaches Jazz Festival. He has recorded two compact discs: Inside Outside with full band and Philip Disera, a collection of original guitar compositions. Philip is an accomplished composer and arranger, creating much of the music played by Ambiance. Two of his compositions are in the Royal Conservatory of Music Guitar Repertoire books. Philip received his jazz training at Humber College, studied latin guitar with Brazilian master Tiberio Nascimento and classical guitar with acclaimed Canadian guitarist Norbert Kraft.